(Courtesy of News@Wesleyan)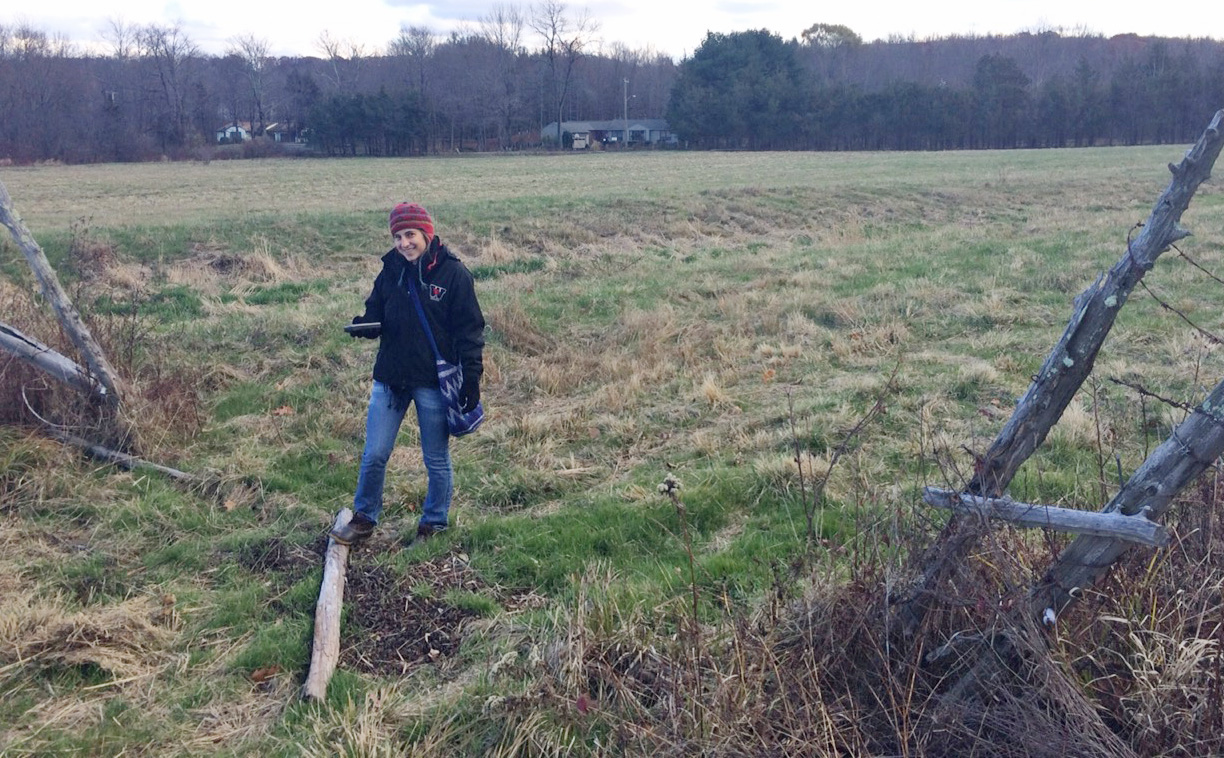 As part of the GIS Service Learning Laboratory course, Katy Hardt '15 researched the wetlands, waterways and critical habitats of the northwest section of Middletown. Hardt and fellow group members John Murchison '16 and Catherine Reilly '15 presented their findings to the Middlesex Land Trust.
Five groups of students enrolled in the Geographical Information Systems (GIS) Service Learning Laboratory course E&ES 324 spent their semester helping local organizations learn more about land parcels in the City of Middletown.
On Dec. 1, the students presented their research to fellow students, faculty, staff, community members and community partners.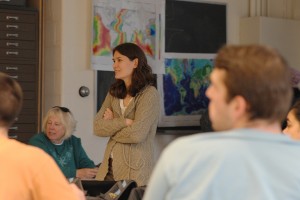 Kim Diver, visiting assistant professor of earth and environmental sciences, taught the class, which included included lessons on geographic information systems (GIS) concepts and spatial data analysis and visualization.
"GIS are powerful tools for organizing, analyzing and displaying spatial data," Diver explained. "GIS has applications in a wide variety of fields including the natural sciences, public policy, business, humanities or any field that uses spatially distributed information. In this class, students worked to solve local problems in environmental sciences."
The students worked closely with community partners from the Middlesex Land Trust, Middletown Conservation Commission, the Connecticut Department of Energy and Environmental Protection and others to design a GIS, collect and analyze data, and draft a professional-quality report to the community.
Kim Diver, visiting assistant professor of earth and environmental sciences, taught the class.  
Erin McGrath '16, Angus McLean '16, Abrial Meyer '16 , Dara Mysliwiec '16 analyzed 355 land parcels in the Sumner Brook Corridor in Middletown based on eight factors to rank the parcels by importance to conservation. These included land value, elevation, proximity to water, wetlands, and open space as well as natural diversity, building cover and woodland cover. The data is generated for the Middlesex Land Trust to help in their acquisition of conservation property.
"This is such valuable material, and we've already purchased 100 acres of land as a direct result of classwork from a previous Wesleyan GIS class," said community partner David Brown, director of The Middletown Land Trust. "I expect this class work will be similarly used in the future."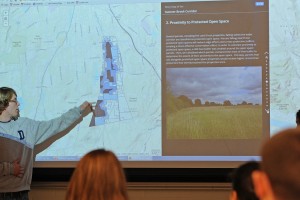 Angus McLean '16 speaks about protected open space near the Sumner Brook Corridor in Middletown.
Katy Thompson '15, Rebecca Sokol '15, Chloe Holden '15 and DeNeile Cooper '15 worked with Wesleyan's Physical Plant to create two updated versions of the Wesleyan campus map.
One map targets a Wesleyan-specific audience and includes  student-managed land areas of campus, such as the Long Lane Farm and land managed by WILDWes. The students also created an online "story map" for visitors and prospective students.
"The story map is more user-friendly than the Physical Plant map and prioritizes information interesting to a non-Wesleyan audience. Pop-ups provide blurbs, images and external links for buildings ranging from residential to administrative to dining," Cooper explained.
Sophie Breitbart '16, Mackie Hemphill '15, Tessa Hill '17 and Chloe Nash '16 assessed the desirability of land parcels that the Middletown Conservation Commission may acquire and conserve for open space. They analyzed five properties in Middletown via factors such as proximity to city water and sewer systems, distance to most populous census tracts, and whether it's within land designated as containing valuable protected habitats.
Jeffrey Hauser '15, Guy Davidson '16, and Nolan Daley '16 worked with Steve Gephard of the Inland Fisheries Division of DEEP to map dam locations and the water impoundment areas along the Coginchaug River for the purposes of fish habitat quality and migration.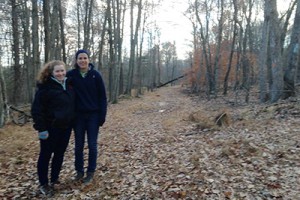 Tessa Hill '17 and Sophie Breitbart '16 analyzed five properties in Middletown including the Wesleyan Woods Preserve (pictured).